"America 2049 hits that sweet spot where sci-fi nerd-dom and social activism meet: the dystopian future genre. Don't want things to get that bad later? Then fix things now." —Fast Company
"The game drops you in the shoes of an agent of the Council on American Heritage in a United States 38 years in the future. It's a country willing to forgo civil liberties for more security and fewer human rights." —Kotaku
America 2049 players are activated as agents for the Council on American Heritage, headed by Jefferson Williams II (Victor Garber), and tasked with the capture of alleged terrorist Ken Asaba (Harold Perrineau).
As the story unfolds and players make high-stakes choices, they are immersed in a splintered America of the near future: hostile to women, racial diversity, reproductive freedom, homosexuality, and self-expression. America 2049 challenged players to ask: how close are we already to America 2049—and how can we connect, online and in real life, to build a better future?
Players worked through the 12 levels by completing high-stakes missions involving human rights themes. They solve puzzles, search for clues across the internet, exchange data with fellow players, immerse themselves in America's complex history with human rights and civil liberties—for example, they examine a 1923 inspection card certifying that immigrants were vaccinated and disease-free, and a poster protesting a ban on HIV-positive travelers lifted in 2010. They engage more deeply with the issues with a built-in curriculum delivered as a (fictional) peppy morning talk show, "Good Day Every Day." The challenges they face illuminate the choices we have made as a nation—and the choices we must make in order to preserve American democracy and human dignity into the future.
LEVELS AND SELECT THEMES
These are the intersecting themes explored as the levels roll out and the plot thickens.
Racial profiling, forced quarantine (discrimination based on HIV status)
Human trafficking/forced prostitution; vulnerable status of new immigrants
Forced servitude, labor rights
Forced medical experimentation, censorship
Hispanic experiences, threats to privacy in the name of "security"
Reproductive rights, segregation, racism
Native rights, forced migration
LGBTQ issues
Hate groups, violence in political speech
Immigrant labor building America, Jewish history
Democracy, voting rights
Celebrations of multiculturalism and diversity, human rights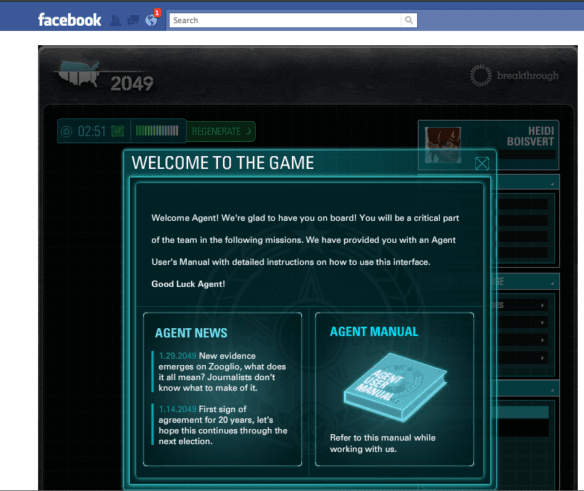 America 2049 both lived on and reached beyond the world's most popular social network, integrating:
celebrities,
additional social media,
five fictional websites,
70 videos,
45 voice-overs,
150 graphic assets including real historical artifacts,
12 real-life events, a search engine populated with fictional history,
and a political-thriller story based on a 450-page script,
Into a highly interactive, multidimensional, transmedia—and first-of-its-kind—experience.
We launched America 2049 on April 3, 2011 as a high-profile 12-week interactive national gaming event. One level was unlocked each week and included an on-ground event, linked to issues raised in the game, at one of 12 U.S.-based members of the International Coalition Sites of Conscience (the Lower East Side Tenement Museum, the Birmingham Civil Rights Institute, and the Arab American National Museum in Michigan, and more). The game attracted more than 20,000 players from the U.S. and around the world. The America 2049-linked event at the Angel Island Immigration Station in San Francisco attracted more than 100 participants, and demand for seats exceeded capacity at the America 2049 forum on human trafficking at the Hull House in Chicago.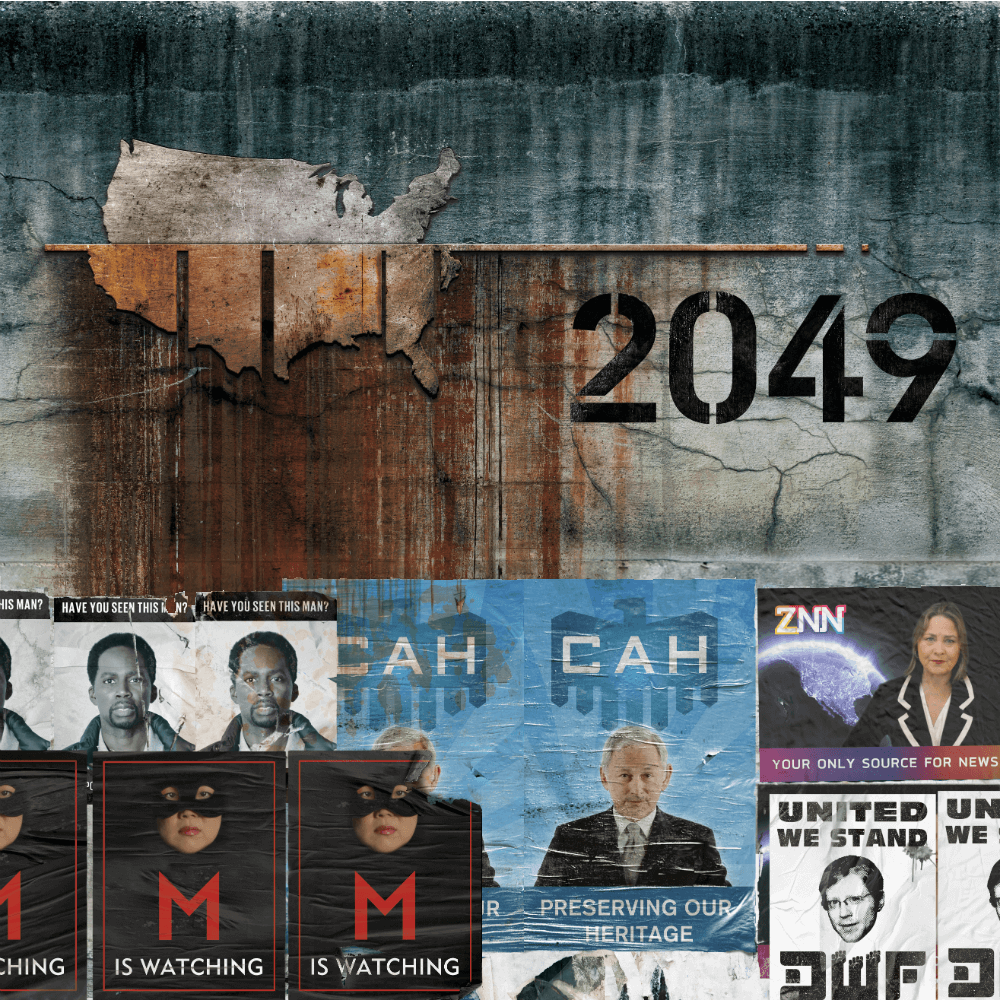 Breakthrough created America 2049—the first Facebook game for human rights—in 2011.
#SPOILER: Here are the disastrous dystopian realities we warned of.
Racist extremists take the White House
Federal-level civil rights and hate crime violations are no longer prosecuted
Extremist candidates begin to run for and win seats on racist/anti-immigration platforms
Draconian travel and immigration policies are established and enforced
Taxes are cut and programs like EPA are the first to go
Elections are hacked
So yes, turns out we were onto something. Unfortunately.
America's political realities evolved—that is, devolved—faster than we'd predicted.
At the same time, Facebook's programming interface evolved even faster, faster than we could keep up. So while it's not possible for the game to function in the way it was launched, we are working right now to reboot America 2049 to meet the challenges of today—and tomorrow.
40K players worldwide
86% of players surveyed reported willingness to become active on an issue they encountered in the game; 25% reported they spent time reconsidering their views on the issue in real life.
12 live events at International Sites of Conscience
More than 550K media impressions

"America 2049 is the first of its kind for a social justice game, an immersive online environment designed to utilize Facebook's dynamic network to bring users into a conversation about human rights." —The Atlantic




"Imagine if the United States' future depended on you, networking with people to preserve freedom. That's the premise at the core of America 2049, a new game debuting today on the world's most popular social network. Set in a balkanized, alt-reality USA splintered beyond all recognition by fear, bias and paranoia, all the missions will be based on real-world, present-day hot-button issues like sex trafficking, immigration, and labor. [T]he timing may be right to click into the world of 2049 and absorb its messages. You might be moved into acting on or learning about an important cause. That's okay, because your farm or vendetta can wait." —TIME.com




"It's an interesting exploration of social gaming and politics on Facebook. It's also a game that explores some very real, very important issues like sex slavery and human trafficking [and] a neat combination of clever interface, alternative reality gaming and video cut-scenes with some recognizable acting talent. America 2049 is activism as entertainment and education as political thriller." —Kotaku