Marked dance project Defies Gravity
Artists and cultural workers are pivotal contributors to social change. They are catalysts who help us to imagine communities rooted in equity and radical love. Breakthrough VOICES is a space for artists to not only amplify their own talents but to use those talents to inspire others.
In the latest installment of Breakthrough VOICES, meet marked dance project.
Mark Travis Rivera is the founder of marked dance project, a contemporary dance company for disabled and non-disabled dancers based in New York City. Founded in March of 2009, Rivera became the youngest person in the United States to artistically direct and found an integrated dance company. Having performed throughout the tri-state region, MDP aims to break barriers and expose audiences to the various possibilities of what it means to be a dancer.
This interview has been edited and condensed for clarity.
Breakthrough: What was your Breakthrough VOICE?
Mark Travis Rivera: I was born an artist. I think artists are born creatives. I was born premature. My mom gave birth to me at five and a half months. I weighed one pound. And during the birthing process, I developed cerebral palsy which affects me from the hips down. My life experiences have all led me to this moment. How do I use my voice? How do I use my artistic abilities for change? I was born an artist. I was born a storyteller. That's what I do.
BT: How does your art intersect with social change?
MTR: I work at the intersection of disability and dance. We get to change audience members with every performance we do. We change perspectives. We change minds. And we get to really show people what's possible. We redefine and defy gravity. People who use wheelchairs can still dance. People who are visually impaired can still dance. People who have cerebral palsy can still dance. People who have spina bifida can still dance. That's why I created my dance company—to provide opportunities for disabled people to perform.
"We change perspectives. We change minds."
BT: Who are your role models?
MTR: I don't really like the term 'role models.' Role models get put on a pedestal, like you have to be perfect. But that's not attainable. So I like the idea of being a 'possibility model,' that I can model what's possible when you don't give up on your dreams, when you persevere, when you're resilient, and when you use your voice to bring about change.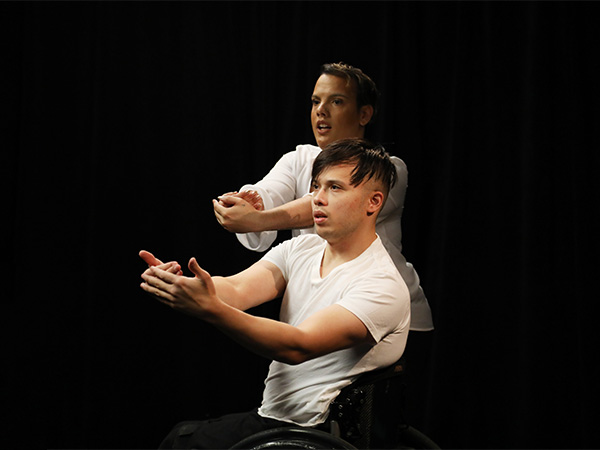 BT: Who are other underrepresented voices you think people should hear?
MTR: The everyday people who are doing the work. We always think of marching and protesting as THE activist thing to do, but for people with disabilities, it's not always accessible to walk for many miles or stand up for many hours. So they use social media to bring about social change. Everyday voices is really what's going to move the nation forward.
---
Season One of Breakthrough VOICES highlights a spoken word poet, a rock band, a performance artist, and a dance troupe. To be highlighted in a future season, contact us at voices@breakthrough.tv!
Coming up on May 23: Jarrett Key