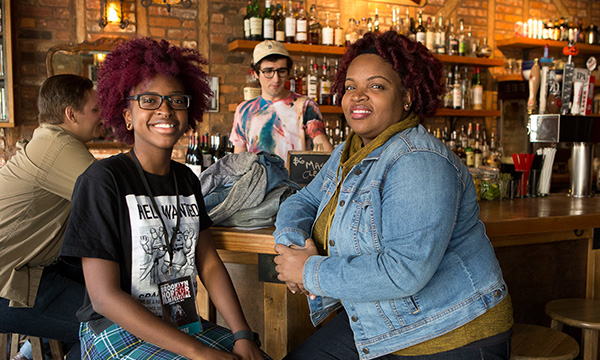 Thank You Mom, on International Women's Day
During Women's History Month you probably —and rightfully so — see multiple tributes to women around the world who have fought for equality, advanced human rights, and broken barriers. These women are extraordinary, and our worlds wouldn't be the same without them.
But in our individual cases, there's one specific woman without whom we literally wouldn't be here. And we don't want to overlook them.
So this #InternationalWomensDay (and, of course, every day) we're celebrating the extraordinary women in our lives — our moms.
Mary Iannone — Breakthrough US
Mom is my mom. Mom is my sister's mom. But throughout her life, she has been a "Mom" to a continuous group of children who spent their days at our home. Mom never really called it a daycare, and she certainly never gave it a cutesy name — that's not really her style. I think Mom ran less of a daycare and more of a library. Our home, to us and to the children in her care, was (and is) a place to foster literacy and learning at every opportunity. My love of reading and writing was directly inspired by Mom, and has been encouraged and supported by her every step of the way. And it's entirely indicative of her commitment to nurturing this love that, in her spotlessly neat home, she never moved or even touched the ragged, half-filled notebooks I would leave strewn about. So thank you, Mom, for that and for so much more—with abundant love from Mary, Kate, Emily, Max, Jack, Connor, Amanda, David, Riley, Wes, Sydnie, Halle, Daniel, and Christopher.
Barsha Chakraborty — Breakthrough India
Ma is my best friend since the state of my consciousness. I know I can share anything and she will listen to me and she might differ but she is always open for a discussion. She always respected my life choices. She helped me to understand the beauty of openness, to be able to think beyond my own bubble. Now that we have both grown up, we connect more on womanhood. It's beyond mother-daughter. It's connecting as two women, from two different generations but somehow similar in life experiences as a woman. No one can understand me better than my mother, she is my safest space.
Darnell Moore — Breakthrough US
I am the epitome of a mama's boy — not because my mother spoiled me, but because everything I've come to know about fearlessness and survival I've learned it by watching her. My mother spent her teen years raising children and caring for her younger siblings despite the dreams she may have had for herself. She sacrificed so many of those dreams, like completing her high school education, to ensure that my sisters and I had what we needed. When she returned to school to complete her diploma at 50, it was the best day of my life. She finally was able to focus on her needs after having spent so much time, like so many Black women, focusing on everyone else.
Alisha Bunting — Breakthrough US
My mom has always been a massive cheerleader and fan of everything I do. Even if it's something really weird or great! She is always there cheering me on in anyway she can. In this photo, my mom was happy to support me with my first big film festival I was granted press access to when I was just starting out in creating a horror film publication. She kept me on the right track with the website and even today she is still saying "When are you starting it up again? I really think you can keep doing it."