Breakthrough With Black Fatherhood
This Father's Day, Breakthrough is celebrating the beauty of Black fatherhood. We're honoring dads who identify within the LGBTQ+ community, as well as dads who have publicly demonstrated unwavering love and support for their cis, queer, trans and gender-expansive children. We know parenthood is never without its challenges. To thrive within the margin of the margin adds an unimaginable uphill battle. And yet, we've witnessed Black men make it look effortless as they amplify and celebrate what healthy fatherhood looks like.  
Historically Black fathers have been grossly misrepresented as absentee, misogynistic, abusive, and or disengaged. This damaging narrative has its origins in the The Negro Family: The Case For National Action composed by white sociologist and Assistant Secretary of Labor Daniel Patrick Moynihan. This report has since been negated by reliable contemporary sources such as the CDC, who published Father's Involvement With Their Children. General findings from this research suggests that resident and non-resident Black fathers alike attend to the physical, educational, and mental care of their children more so than their Hispanic or White counterparts.
Accurate and appropriate representation is essential not only for the overall structure of the Black family, but in the myriad of ways the Black family can be portrayed. These fathers very loudly and very proudly demonstrate their support, love, and understanding of the LGBTQ+ community, and exemplify what it means to nurture unconditionally. The fathers being highlighted this year are not only breaking down but breaking through the barriers surrounding what Black fatherhood is.
Dwyane Wade
This retired NBA Champion and Miami Heat legend is father to sons Zaire (20), Xavier (8), and daughters Zaya (15), and Kaavia (3). Not only is Dwayne Wade Black fatherhood magic for raising four children, but because he is a champion for his trans-daughter Zaya, who at the young age of 12 years old courageously told her family she is now a girl and wants to officially go by Zaya, and her pronouns to be she/her. Zaya dared to live her truth and Wade has often praised his daughter as being an inspiration to him.
Recently, at the Times 100 Summit, Wade questioned the integrity of anti-trans legislation begin passed around the country and had this to say: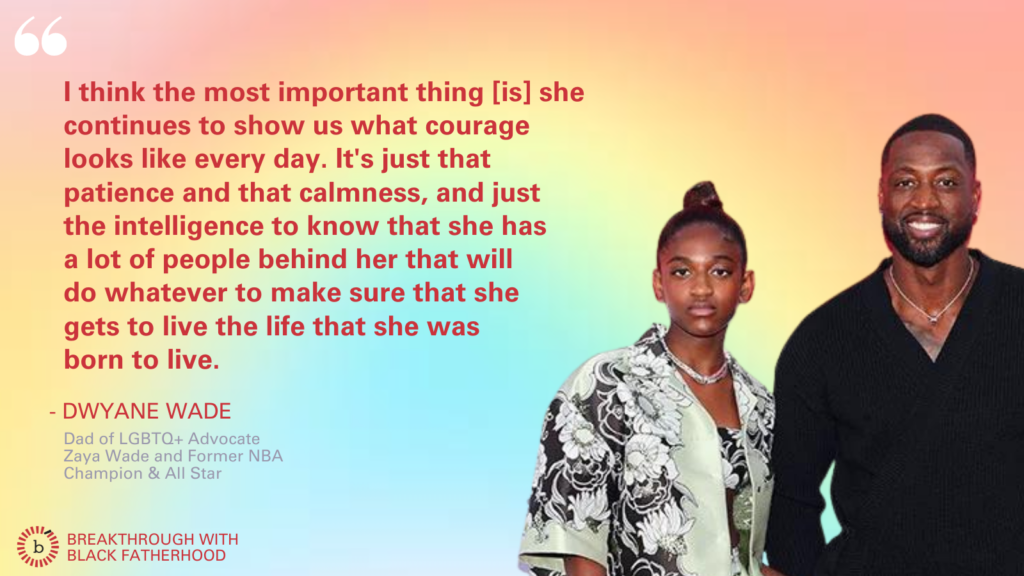 Karamo Brown
The author, activist, and Queer Eye host is father to Jason "Rachel" (25) and Christian (21). Karamo's (who came out as a gay at the age of 16) fatherhood journey is uniquely different from the other men on this list. He was unaware of his first son Jason until 10 years after his birth;  the sudden change to his reality didn't stop him from immediately stepping in and making up for lost time. His son's mother agreed to grant custody of Jason "Rachel" to him and shortly after, he legally adopted Jason's half-brother Christian at the age of 9 years old, and proudly took on the role as his dad. The origins of the Brown family might not have taken the traditional path society portrays, but Karamo believes families come in all shapes, sizes, and colors: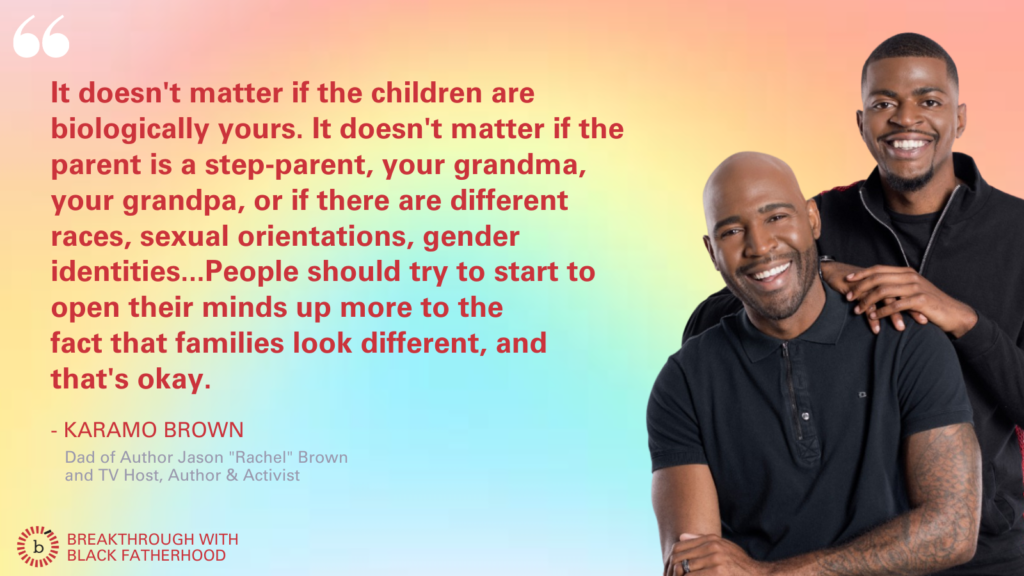 Myles Brady Davis
Myles Brady Davis, Director of Communications and Press Secretary of Equity Illinois is a trans-father to a Zayn (2). They and their wife Precious are no strangers to the spotlight as they were the first trans-couple on TLC's "Say Yes to the Dress" (2016) then again for "My Husband Is Pregnant" (2019). Their road to fatherhood was assisted with IVF treatments which helped shed light on the world fertility and those that experience difficulty with conception as well as the potential hate or discrimination a pregnant transmasucline man could face. The couple's journey was arduous because both Myles and their wife struggled with identity; however, they persevered and believe that it was all worth it in the end: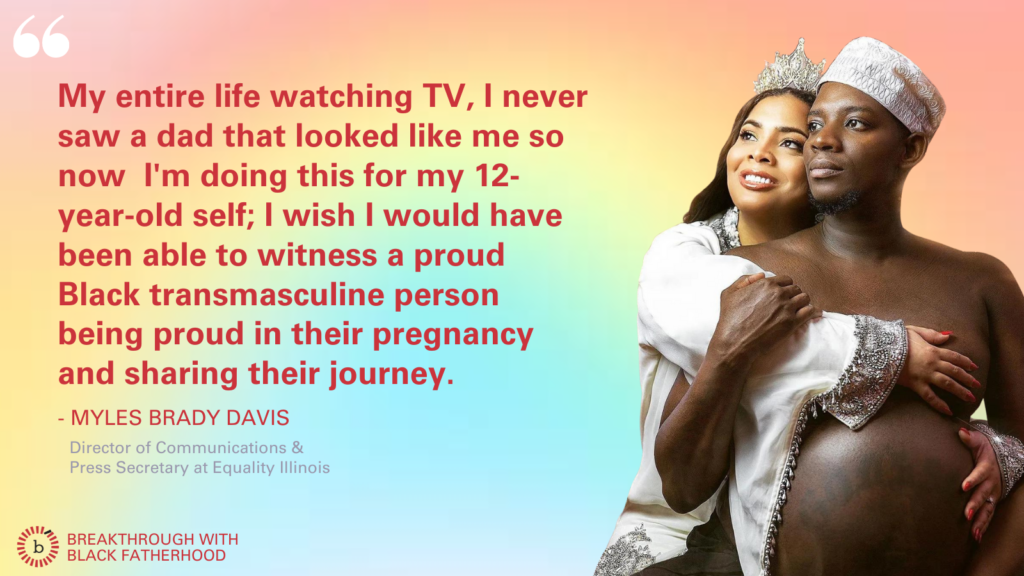 Magic Johnson
A retired NBA Hall of Famer and LA Lakers legend, Ervin "Magic" Johnson is father to sons Andre (41), EJ (30), and daughter Elisa (27). Off the court Magic is known for his stellar business savvines however, he's an equally outstanding father, most notably to his son EJ who came out as gay to his family at the age of 17. Magic admits that initially it was difficult to accept his son as he had his own personal aspirations for EJ, but soon realized a dream deferred is not a dream denied. EJ has achieved success in his own right as a tv personality and fashion commentator; Magic couldn't be more proud to be his father: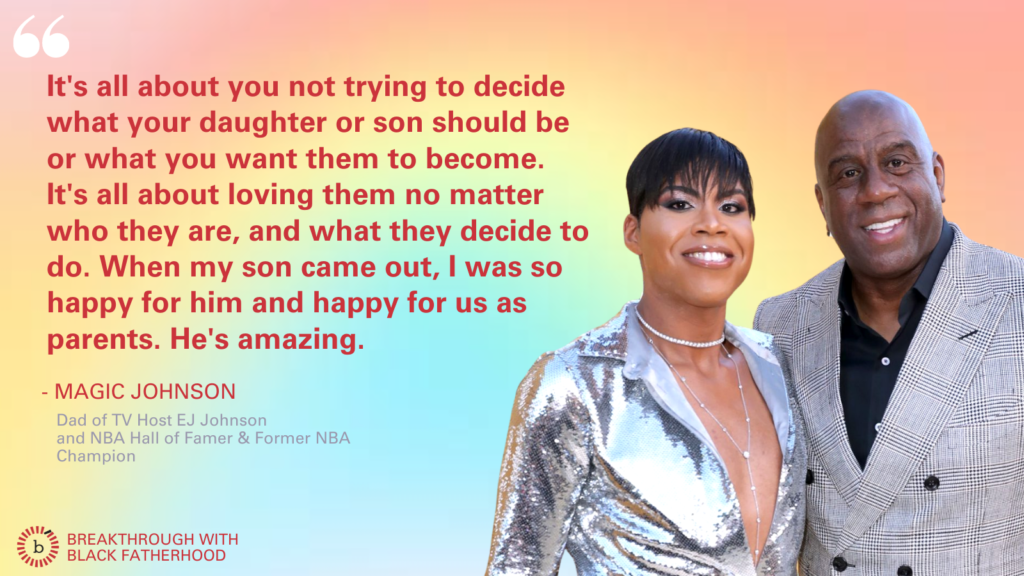 Terrell and Jarius Joseph
As advocates and content creators, this couple is living a charmed life. Terrell and Jarius met in college and after two years of dating became engaged, then married. Settling in Atlanta GA the Josephs ventured on the journey of private surrogacy after realizing adoption agencies were not inclined to consider them and surrogacy agencies were quite expensive. The pursuit of fatherhood was turbulent as the couple experienced a miscarriage at 20 weeks of pregnancy and had to seek another surrogate. While working with multiple surrogates the couple found out they were pregnant twice; Ashton and Aria (son, daughter 3) were born 5 weeks apart. A source of motivation to keep going and publicly share their story is due in large part to a lack of representation and making a conscious decision to fill the void.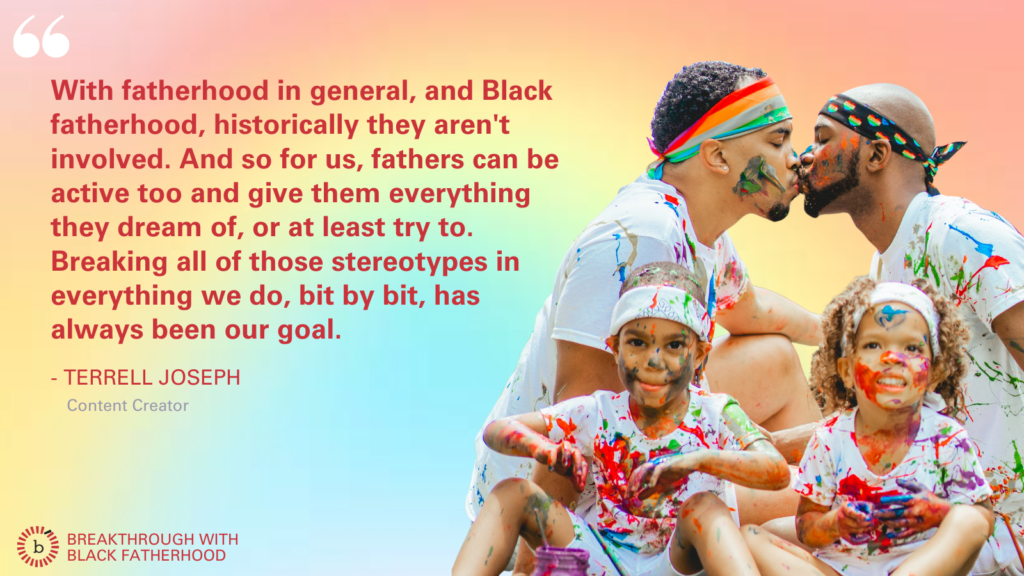 Kayden X Coleman
This advocate, educator, and influencer is father to Azaelia Skye (8) and Jurnee (2). Coleman is best known for his work surrounding transmasculine men who experience pregnancy as this was his personal experience to being called Dad. While in his fourth year of gender reassignment therapy Coleman discovered he was 22 weeks pregnant with his and then husband Elijah's daughter; he admits that before becoming pregnant he didn't think about fatherhood as a possibility. He gave birth again in 2020 at the height of COVID with his partner Dominique. Despite being the target of hurtful and abusive posts and messaging on social media, Coleman continues to speak up and speak out for transmasculine birthing people.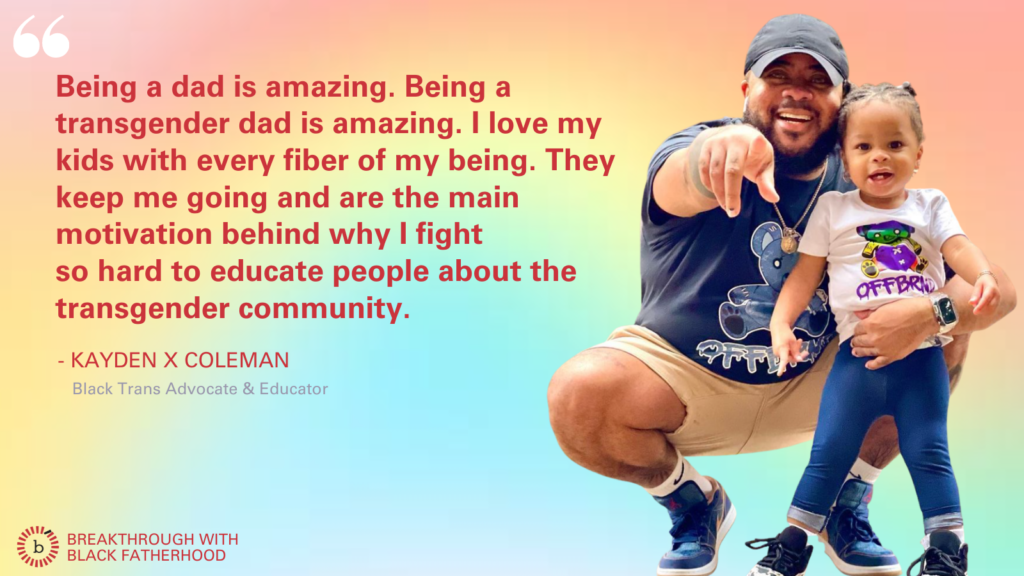 Adair Curtis and Jason Bolden
Bolden the celebrity stylist, and Curtis the interior designer, both known for the Netflix series Styling Hollywood have a fashion forward take on fatherhood with their infant son Arrow Fox. Similar to other father duos on our list, this couple too considered adoption before settling on surrogacy as their best option in their pursuit of fatherhood. Interestingly enough the two initially didn't share the same outlook on when to start a family because the demand for each of them professionally was so high; both had careers that were skyrocketing which left Bolden feeling a bit unsure as he wanted to be active and present regularly. Nonetheless the couple is over the moon for their bundle of joy.