Brittney Griner's Detention Shines Light On Pay Inequity In Professional Sports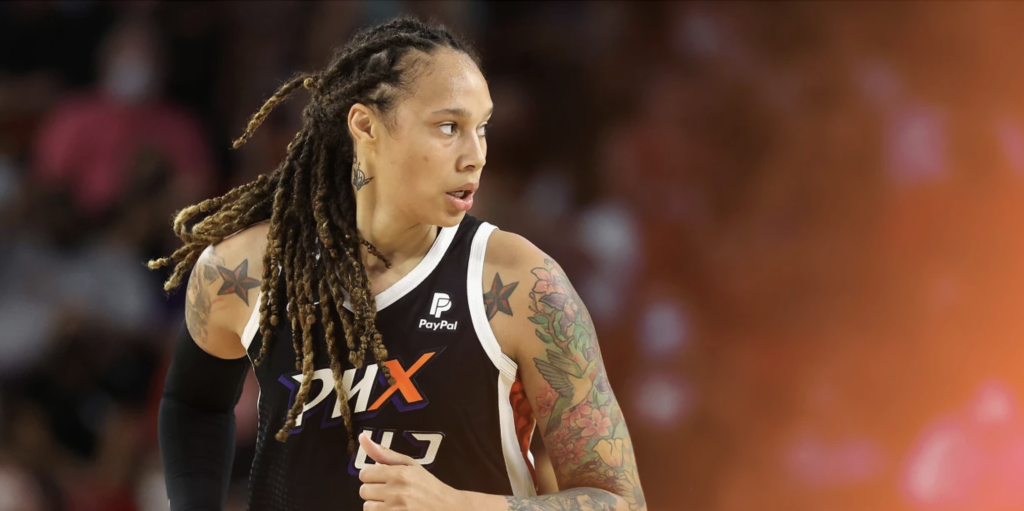 Since February 2022, seven-time WNBA All-Star Brittney Griner, a current player with the Phoenix Mercury, has been detained in Russia due to the alleged presence of vape cartridges containing hashish oil in her luggage. After more than 148 days in Russian detention, Brittney's trial finally began on July 7, 2022, and while we wait for her trial to conclude, it is nerve-wracking given that we can hardly expect an openly Black lesbian American to receive a fair trial in a country that is widely known for its anti-LGBTQ+ and anti-Black rhetoric.
It is against this backdrop that all those who are concerned for Griner's safety feel a real urgency to bring her home and are calling on everyone who has the ability to help. And with that same plea for support, we also must ensure this never happens again, which requires truly understanding why she was even there to begin with.
The reality is, Griner was in Russia because of an all too common gender issue — pay inequity. The gender pay gap in the United States is not a new subject. In 2021, on average, Black women in the U.S. earned just $0.63 for every $1.00 earned by white non-Hispanic men. The disparity in pay for women athletes, like Griner, is especially daunting.
Griner plays overseas for UMMC Ekaterinburg, which is owned by an Uzbek-born oligarch with ties to Russian President Vladimir Putin. While it's not clear how much Griner's salary is at Ekaterinburg, we do know that the team paid Diana Taurasi, Griner's fellow Mercury teammate, nearly $1.5 million per season. With The Mercury, Taurasi only makes $224,772 per season in a two-year contract.
Now I am not blind to the fact that in the U.S. the NBA makes more in overall revenue than the WNBA. A 51-year head start aside, the NBA has successfully turned itself into a global marketing powerhouse, which has allowed its players to reap the benefits, including high salaries.
The average NBA base salary during the 2022 season is about $5.4 million, compared to about $120,600 for the WNBA. The WNBA season is in fact shorter, with only 36 games to the 82 games played by the men's teams, but the average annual base salaries mean an NBA player makes 44 times what the average WNBA player makes. Adding insult to injury, rookies joining the NBA are starting out already making far more than seasoned players like Griner.
During last year's NBA draft, №1 pick Cade Cunningham signed a four-year contract with the Detroit Pistons for $45.6 million, with an average annual salary of $11.4 million according to Spotrac
If we take Cunnigham's contract and compare it to the most recent one for Griner, Cunningham who had never played in a professional game yet is set to make 5046% more per year than Griner, who has done far more to establish herself at the professional level. Griner has been in the league since 2013, already winning two Olympic gold medals and a WNBA championship.
The reality for many WNBA players is they can't afford not to play overseas. Candace Parker, one of Griner's Ekaterinburg teammates, has been vocal in reminding us that while the NBA gives its players the luxury of rest during the "off-season," that's not the reality for its sister league.
"People look at this [playing overseas] as our off-season, but this is our season and the WNBA is our off-season," Parker said to The New York Times. "This is where you take care of your family."
One would think that the league would recognize the need for its players to supplement their income elsewhere, but it appears to be quite the opposite. With playing abroad often spilling over into the start of the WNBA season, recent agreements between the league and the Women's National Basketball Players Association (the WNBA's union) have resulted in the inclusion of a policy of "prioritization," which pushes players to put the WNBA first.
Starting in 2023, veteran players (like Griner) will be fined 1% of their base salary for EACH DAY of training camp they miss, and they will be suspended without pay for the entire season if they don't report by the start of the official season. Two-time WNBA Finals MVP Breanna Stewart, who also plays overseas at UMMC Ekaterinburg, has not shied away from sharing her feelings on prioritization.
"To be able to play overseas, where basketball is very valued, we're treated really well and able to make a lot of money, it's just hard for me," said Stewart. "With the prioritization, you're cutting off one of my sources of income."
While I can respect that the WNBA is trying to build a lasting program and needs its players to do so, I can't ignore the validity of Stewart's reason for pushback. For the league to ask players to prioritize the WNBA when the WNBA can't prioritize properly paying them, makes this new enforcement feel like a punishment rather than a mutually beneficial solution.
What is even more frustrating is that some of the same people who own and make decisions for the NBA, also own and make decisions for the WNBA. So I can't help but think that they were able to turn the NBA into the global brand it is today and therefore should be able to shift their focus to do the same thing with the WNBA. So why aren't they?
Griner was not in Russia on her own accord and while bringing her home is the top priority at this moment, it can't end there. The unjust circumstances that require players like Griner to leave their homes in order to provide for their families must be addressed. Because until they are, we'll continue to see women athletes leaving the country to play overseas and we only hope that what is happening to Brittney Griner won't happen to them.