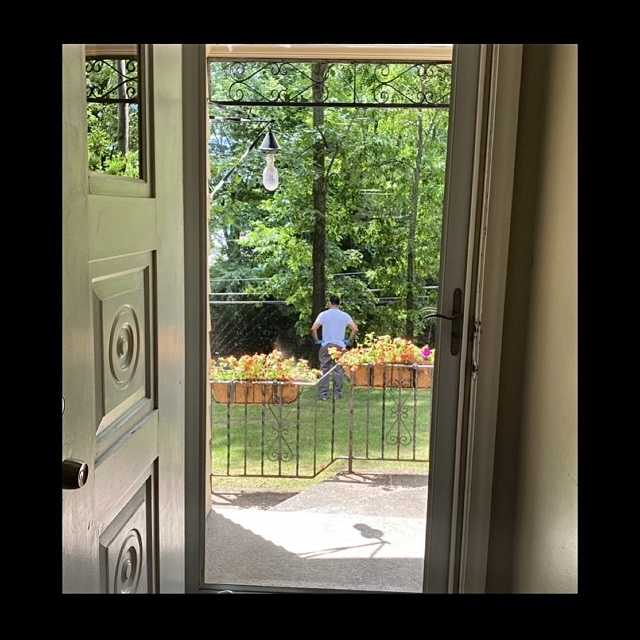 Daddreaming by Caela Collins
I saw him standing there and wondered what he was thinking. I often wonder what runs through people's minds when they stare into that blank abyss in the distance that lays before them.
He could've been thinking something deep & meaningful like him thankfully combining through his blessings. His mind might've been wandering the concrete halls of Home Depot for his next purchase, our favorite store. It might've been nothing at all, just a moment of peace, grazing his thoughts in silence.
My dad was the cool dad in elementary school, everyone in my class wanted him as their chaperone. He's the popular guy at his job who everyone knows and like Bond, you know exactly who he is even if it's not on a first name basis. His last name said enough.
I wonder if he feels my presence right now standing behind him, guessing his thoughts and reviewing his accomplishments as a father. It's funny because I've felt like this my whole life: standing behind him as he guided me through life without his knowledge of my awe in him.
He took off work and flew out to LA with me for my first book reading event. I had no license and an itinerary full of coffee meetings with influential people I hoped would mentor me in the near future. His support in my dreams is pretty impressive and I knew that the moment one of my now mentors from a coffee meeting in the same cafe Issa Rae writes in asked me if they could meet the man that flew across the country for me. They were so moved that my dad was that supportive and just had to shake his hand. For a second I forgot who the celebrity was at that moment.
If he's worrying right now as he looks out into that abyss, there's no need. He's led me all this way and helped build me into a woman that has plans bigger than he could imagine. I will take care of the man that is and forever will be my ride or die. I don't know what he's thinking but when I walked by, something nudged me to document this moment in a photo. Whatever's on his mind must be something profound because it stopped me dead in my tracks like his thoughts stopped him. He must've been daddreaming.
---
This piece is part of Breakthrough's program By & For; An initiative to amplify the lived experiences of creative girls and gender non-conforming youth of color in authentic, nuanced, and respectful ways, and provide them with platforms to share their own creative work, on their own terms. Support By & For here.