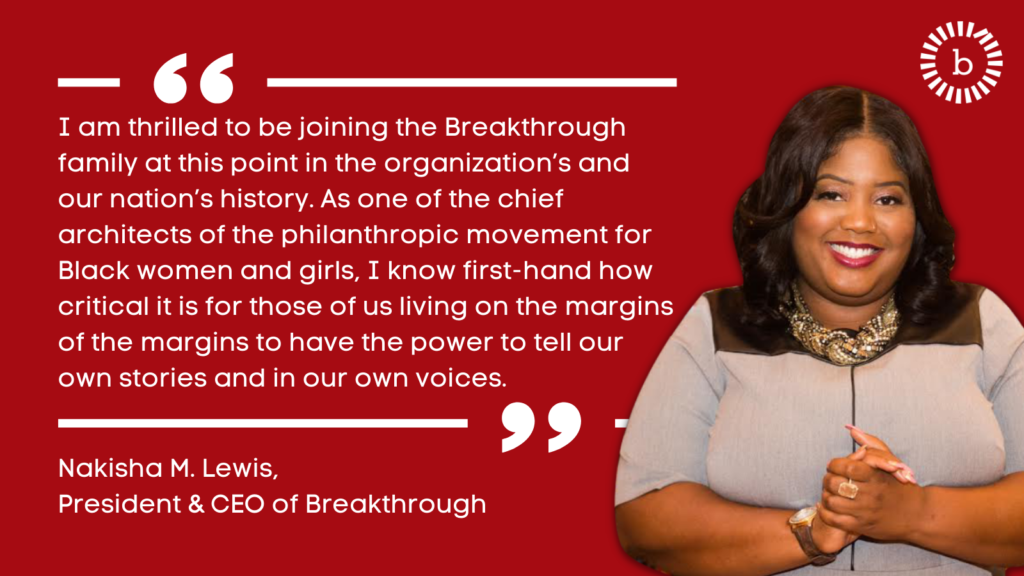 I'm thrilled to be joining the Breakthrough family.
– A Message from Nakisha M. Lewis –
I would like to take a moment to introduce myself as the new President & CEO of Breakthrough U.S.
I'm thrilled to be joining the Breakthrough family. I feel that Breakthrough and I have evolved toward each other, coming together at just the right moment in our organization's—and our nation's—history.
I was born and raised in Boston, MA, where I first learned the core tenets of community organizing. Organizing is pretty much in my DNA. As a child, I grew up going door to door with my mother listening to her tell story after story about the unhoused and disenfranchised people in our community and advocating for safe and affordable housing for us all. I watched her and a determined group of residents turn a toxic waste dump into Boston's very first housing co-op, where we also went to live. I have never doubted that social justice is in my soul.
So is storytelling, which is in Breakthrough's DNA. I know its power to reveal the invisible and amplify the unheard, to challenge systemic harms and shift narratives toward shared power. During Breakthrough's two decades of pioneering culture change, I've spent the same 20 years (and more!) on a parallel path, conceptualizing and directing arts installations and multimedia projects in partnership with the New Museum, #DefendBlackWomanhood, #BlackLivesMatter, #SayHerName and several other campaigns.
As a Black lesbian feminist and a lifelong advocate for racial equity and gender justice, I know firsthand how critical it is for those of us living on the margins of the margins to have the power to tell our own stories and in our own voices. I was drawn from the beginning to the way this organization cuts through the noise of harmful norms and narratives, revealing the full range of humanity, and helping us hear the beautiful hum of equality. And I know that we can continue to build that power together.
I also fit right in at Breakthrough as a pop culture enthusiast: I'm an L Word and Real Housewives fan, a sneakerhead, and a total bookworm. From my Afro-Caribbean roots to the words of Audre Lorde, there's so much that fuels me, and I look forward to sharing it with you.
Making change together will require radical imagination, disruptive thinking, and ample truth-telling. Expect a lot from us. We're here and ready to work, so together Let's Breakthrough!
In community,
Nakisha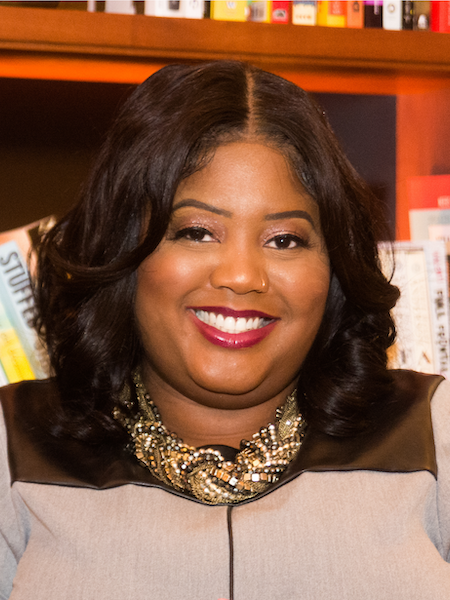 Nakisha M. Lewis
President & CEO
P.S. I'd welcome the opportunity to get to know you and share my vision for the future of Breakthrough. Write to me at NML@letsbreakthrough.org—let's talk!
Join us in supporting and celebrating Nakisha's leadership by making a generous contribution today.