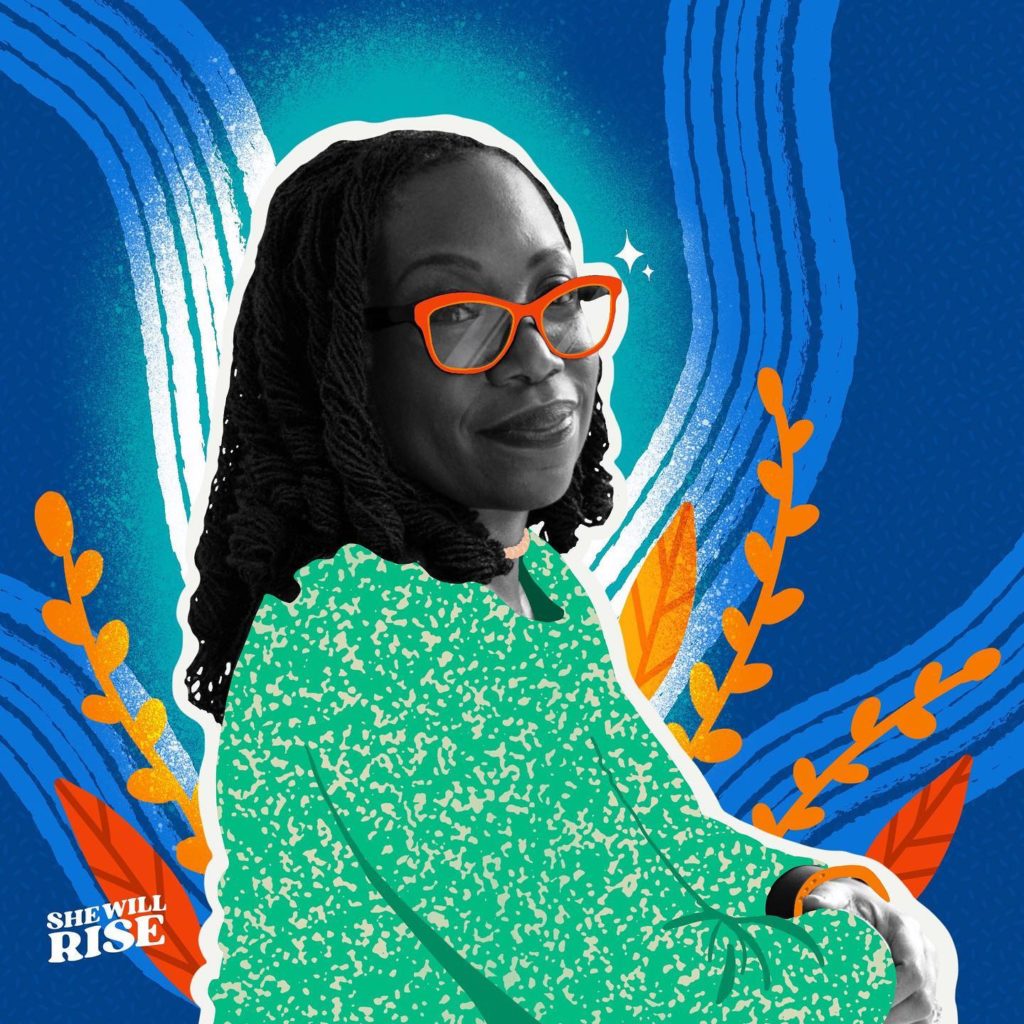 Ketanji Brown Jackson Is The Right Choice For The Supreme Court
A message from Nakisha M. Lewis, Breakthrough's President & CEO
Image Credit: She Will Rise; Artist Credit: Motion Mami
Today, the US Senate begins the four-day hearing process for the confirmation of Judge Ketanji Brown Jackson to the Supreme Court of the United States. She is the first Black woman to become a Supreme Court nominee and, if confirmed, will be the first Black woman to serve on the highest court in the land.
For years, Black women have been campaigning for one of our own to serve on the Supreme Court, and we would not have reached this milestone without the work of countless Black women including the #SheWillRise, #WinWithBlackWomen, and #BlackWomenLead collectives among many others. Women's History Month always makes me reflect on the organizing and activism power of Black women, and the nomination of Ketanji Brown Jackson is yet another example of our role as advocates and leaders.
While this Supreme Court nomination is a step toward a more diverse court, we know that representation alone will not bring us justice. We still live in a country where Black people are routinely killed by police, where children are living in poverty, and where trans women are still targets of violence. With the "Don't Say Gay" bill looming in Florida, there is clearly more work we can do to protect and support queer Black girls and femmes whose lives and families are threatened by anti-gay and anti-trans legislation.
Ketanji Brown Jackson's experience with providing legal representation for people from underserved communities makes her better suited to make legal decisions that impact Black and Brown people. However, Republicans will try their best to challenge her positions on issues like affirmative action and attack her qualifications by virtue of the fact that she is a Black woman. In the coming days during the confirmation, these attacks by Republicans will only get louder, and it is our hope that activists, legal experts, and leaders from all walks of life, not just Black women, will be ready to show support and call out these false narratives.
Ketanji Brown Jackson is one of the most qualified Supreme Court nominees we've ever witnessed. She will be the first justice with experience as a federal public defender, and the first since Justice Thurgood Marshall with significant experience as a criminal defense attorney on behalf of underserved and under-resourced defend­ants. Additionally, Ketanji Brown Jackson will be the only justice on the new court who served on the US Sentencing Commission, a bipartisan, independent agency created by Congress to reduce disparity and promote transparency in sentencing. She also served as a federal district and appeals court judge—more than Chief Justice John G. Roberts Jr. and Justices Clarence Thomas and Amy Coney Barrett, who each served less than three years before their nominations.
As I think about what the future holds for women across America, I am encouraged and excited by the nomination of Judge Brown Jackson. I am hopeful for what her confirmation will mean for creating a more equitable justice system, and what this can mean for laws like Roe v. Wade that protect and support women's lives.
Ketanji Brown Jackson's years of experience combined with her unique background makes me confident in her confirmation and believe that she is more than qualified to sit in the highest court in the land. I am standing with friends, colleagues and sisters across America in support of Ketanji Brown Jackson's confirmation.