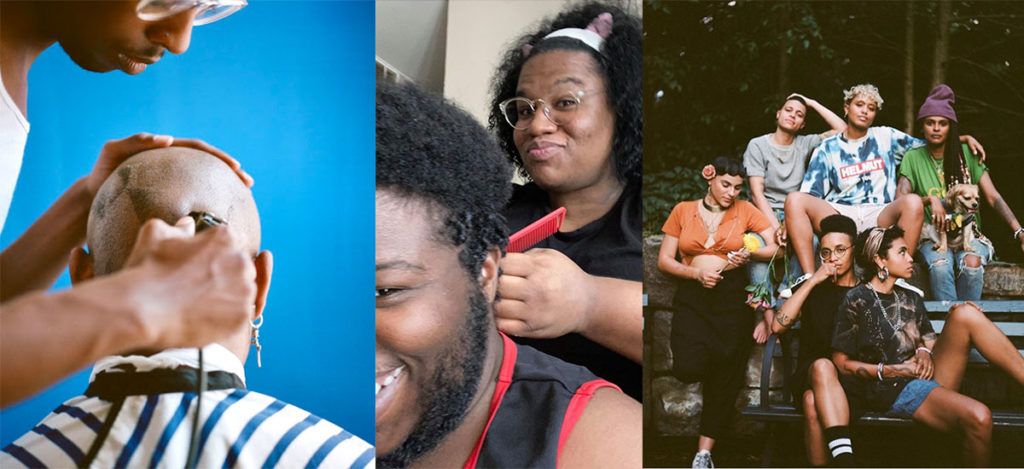 9 intimate photos exploring the meaning & importance of Black queer love
*This piece is published in partnership with Black Youth Project as part of By & For: Black Youth, a written series documenting the issues affecting Black girls and gender non-conforming youth.
By Gloria Oladipo
Black queer love is like a warm summer breeze. You're standing in the cold, waiting to feel whole again. By the time it envelopes you, the extent of your devastation is forgotten.
Black queer love is the foundation of Pride Month. While it may be easier for cis white gay men and coporate greed to reduce Pride into a sponsored keg party, its roots are more revolutionary. Black and brown trans women—Miss Major, Marsha P. Johnson, Sylvia Rivera to name a few—started Pride off with a brick, a revolutionary violence that screams, "We will not kneel as you kill us."
However, the bricks and fists at Stonewall weren't the only revolutionary acts. Black queer love, in and of itself, is a defiance to what a Eurocentric, hateful world views as worthy, beautiful, and acceptable. To showcase the power within Black queer love, here are 9 people on what Black queer love is and what Black queer love means in their relationships:
Raven Schwam-Curtis, she/her, 21
Instagram: @ravenschwamcurtis
"For me, Black queer love shows up most strongly in my friendships. I'm able to express who I love and why I love them without judgement. I don't have to explain my queer identity or defend it, I can just be.
Black queer love manifests in my life as total and absolute acceptance of every part of me — the good and the bad. Zero interrogation, zero judgement, all love. It's a very freeing sensation. Black queerness is powerful because it refuses the violence of heteronormativity. It demands a reconfiguration of what societal narratives have told us to be true. Black queerness is an unadulterated rejection of the status quo."
Myles Loftin, he/him, 22
Instagram: @mylesloftin
"This is a photograph of my ex boyfriend Kadar and I. I shot this photo for my senior thesis project, and I think it perfectly captures such an important aspect of what love is, and specifically what black queer love is to me. And that is trust. I think that black queer love is trusting your partner enough to express yourself fully and comfortably in all the facets of your identity.
Black queer love is being able to exist unapologetically, it is sharing yourself with another human on a deeply intimate level. It's allowing someone to see the darkest parts of your existence, and them transforming that darkness into light. Black queer love is protection, from a world that doesn't always welcome us with open arms and a warm embrace. It is a beacon of light that emerges from a sea of darkness."
Lily Dominique, she/they, 20
Instagram: @lilyxee
"Black queer love is grounding, humbling, and life changing. Black queer love simply means home to me. When I love someone who resembles me (spiritually, physically etc.), feels like me (understands the pain that this world can bring people like us), and respects me and my strength through it all, I know I've found a home. I know that this is someone who will appreciate fully when I can give them that same feeling and respect back. I know I've found a black queer love.
The power of that is boundless because the loyalty there is so strong that it's palpable. So, in the context of my current relationship, I've been to so many places with him but every single one has felt like home since he's there. Black queer love is adaptability, foundational, and life changing."
Kiesh, she/her, 31
Instagram: @kiesh.work
(In the context of her fiance, Crystal)
"Everything. I need the love of the Black queer people in my life because they're the brightest, most empathetic, and emotionally intelligent people I've met. Black queer love is everything to me: a learning lesson, a friendship, a lifelong love, a deep understanding. It's honestly everything. [With Black queer love], we can change the world. We have done it before and we're on track to do it again."
Allen Porterie, he/him, 22
Instagram: @artsy.allen
"Deja exudes strength and compassion in the very fiber of her being. Each breath she takes is used to deliver a message of encouragement, correction, or observation. Deja has become a sister-friend to me over the course of our almost four year relationship. She is my best friend on this earth and I love that our spirits were able to connect in the midst of the turmoil that was Cornell University. I love her with every bit of me. She inspired me to live out loud as a queer Black man and did so without pause for judgement—just suggestion.
Our Black queer love is founded on honesty, trust, and empowerment. Because of her, I know no other way to express queer love. This is the power that Black, queer women have specifically, I believe. The power to open minds, lead movements, and create the world we need. All we have to do is listen and act when called upon."
LaSaia Wade, she/her/they/them
Instagram: @lasaia_wade
"Black Queer Love is healing, it is chain breaking, it is stern, it is knuck if you buck. To understand it is to understand Blackness itself. It means I will be liberation in your love while fighting for liberation from white supremacy outside. We are taught that we must do it on our own, but we don't. I have a partner not only uplifts, but also holds the trauma we both have been through, and so do I.
The Power of being Black & Queer and not being performative! It's the true power of being oneself and of knowing that not only is your body liberated, but your mind also. It's so much more than a saying, it's a lifestyle that the ancestors have blessed me to be a Black Trans Queer Woman, and I stand in Power."
Betty Yirga, she/her, 22
Instagram: @pollux444
"Black queer love is the strongest of em all. It comes with strong passion, care, desire, empowerment, and loyalty. The power of queer love is unmatched by anything else in this world. It's a representation of resilience, vigilance, intersectionality, and purest form of love❤️"
Hari Ziyad, he/him/they/them, 28
Twitter/Instagram: @HariZiyad
"I never knew I could not be at war with a romantic partner. I never knew that mistakes could be healed and accounted for in such a carefully complex way, but my fiance Timothy DuWhite is proof of this truth. Black queer love is knowing that you are on the same side of the battle field, even when you are at odds. You can be at odds and be on the same side at the same time because, within Black queer love, binaries don't exist. I know I love him queerly—Blackly—because we can both be wrong and we can both be right as long as we allow ourselves to just be, and Black queer love is allowing ourselves to just be.
Black queer love is in the silent moments between a loud and fiery speech. It's in the mistakes between when we get it right, and in picking each other back up. It's not the only love there is, and it doesn't have to be. It can exist among many loves. Friends and family and friendships and children don't always have to come second. There doesn't have to be a hierarchy of care, which means there doesn't always have to be oppression. It allows room for other love. It allows room for me to love myself. And it's a process. I am still figuring out how to hold onto Black queer love each and every day. We are figuring that out together."
Kopano, they/them, 21
Instagram: @kopanoart
"What's crazy is I moved out of my childhood home and both my roommates are Black queer and trans. It's been a revelatory experience for my emotional wellbeing and growth. Understanding, conceptualizing, and accepting myself and knowing I'm not "confused"; everyone else is. I know my identity despite what others see and assume. I know. It's been–I'm speechless. I haven't felt this sense of belonging here. I didn't know myself like I know myself now. With Black queer trans people, they see me. I find the fluidity with how these relationships operate. I started hooking up with one of my friends and I haven't felt something so easy and true. My friends and I have huge crushes on each other but we're committed to making our relationship sustainable. Black queer love unveils a different type of intamacy around time and place because alot of people an have a desire but may not be ready for what the desire gets of us. All of these Black queer relationships are coming later in my life. These relationships emphasize learning, honesty and forgiveness."
"[The power of Black queer love is] freedom, fluiditiy, and imagination. I think people exist in social realities enforced upon them. In Black queer love, there is no archetype to try and enforce. There is no pressure. Being Black queer and trans, you are so outside the relationship expectations. You have the freedom to construct your relationships any way it could be. Imagination is freedom; you have to see it to believe it. To get freedom, I have to imagine it. It begins in relationships."
---
Black queer love is beautiful. Black queer love is sacred. I'm eternally grateful to experience it.
---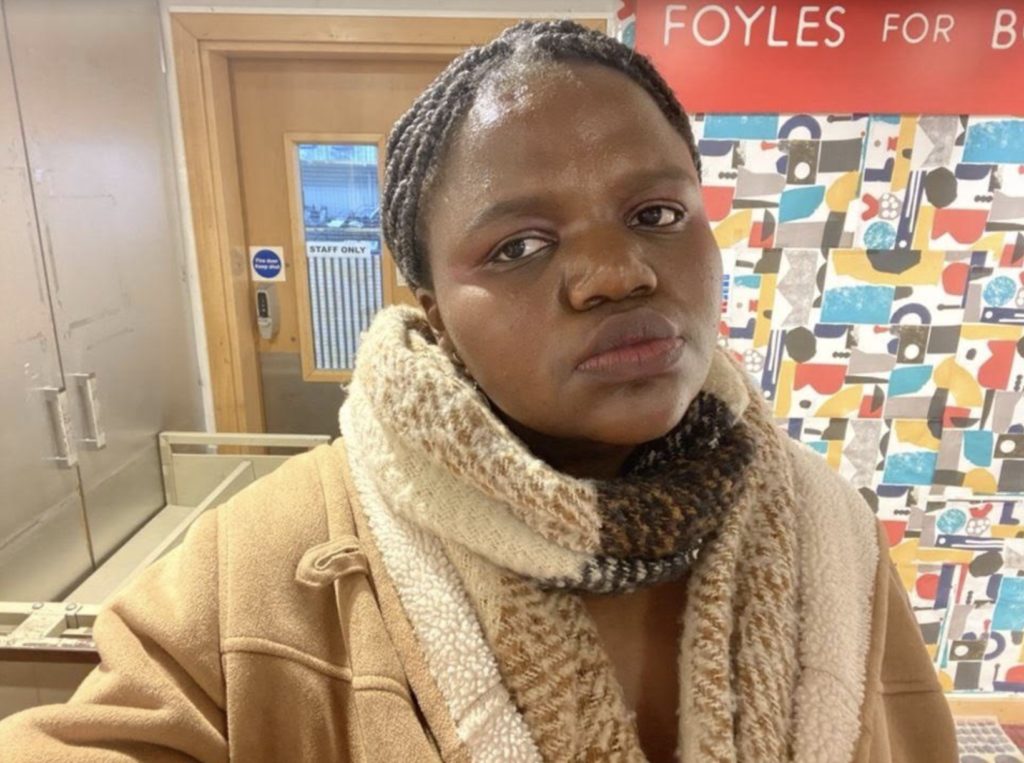 Gloria Oladipo is a 20 year old Black woman and a 3rd year Cornell student. She is a freelance writer with pieces at Teen Vogue, Healthline, Black Youth Project, Rewire Magazine, and more. Moreover, she is also a regular contributor at Wear Your Voice magazine. She enjoys writing about all things race, gender, politics, mental health, pop culture, and more. In her free time, she enjoys reading, gardening, and working on her non-freelance based creative projects. You can learn more about her on her Instagram (@glorels) or her Twitter (@gaoladipo).