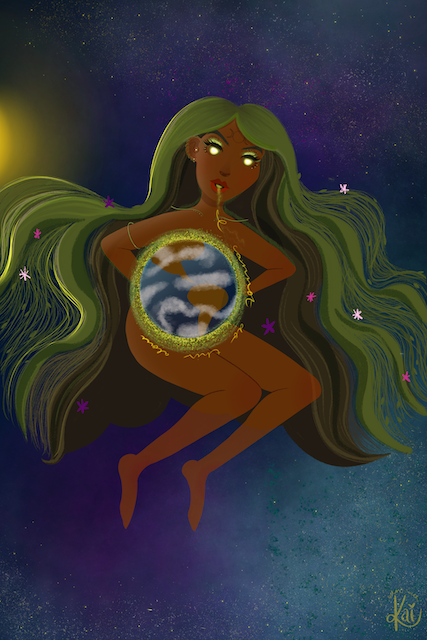 Galactic Gaia: Earth Month Illustration by Kai Ibarra
This Earth Month 2021, we take inspiration from Kai Ibarra and their piece depicting goddess of the earth, Gaia. Selecting a muse was straightforward for Kai, "love goddesses and their stories of divinity, so Gaia, mother of Earth was who I thought of instantly."
Kai utilizes Gaia to highlight that ancestral knowledge may provide a framework to solve the growing climate crisis. While environmental issues greatly impact the lives of BIPOC and lower socio-economic communities, Kai's message is that there isn't just "one place or people being affected by this climate crisis". This sense of togetherness is effectively conveyed as similar tales/parables often serve as one of many foundational blocks for individual beings.
One of the most striking features of the piece is the long flowing hair that gives Gaia an ethereal appearance. The usage of earthy tones throughout her visage merge nature into her being and match the breath/aura enveloping the planet in a protective cocoon. Gaia whispers: "I cannot do this alone" as a plea for its inhabitants to protect and support our symbiotic relationship. The various features intertwine showcasing the need to overcome social boundaries such as racism, capitalism and classism for the sake of world-wide environmental equity.
Resonating the Earth's energy, Kai learns from their settings and only utilizes what feels authentic. A foundation in realism, traditionalism and modern animation result in a style that is constantly flourishing and evolving into something new.
"[I want] people to see this piece and know that we have so much work to do, but our planet is rooting for us".
---
By & For is Breakthrough's program that amplifies the lived experiences of creative girls and gender non-conforming youth of color in authentic, nuanced, and respectful ways, and provides them with the platform to share their own creative work, on their own terms. Breakthrough is dedicated to compensating all contributors for their artistry. Help us foster the work of young creatives by supporting By & For here.