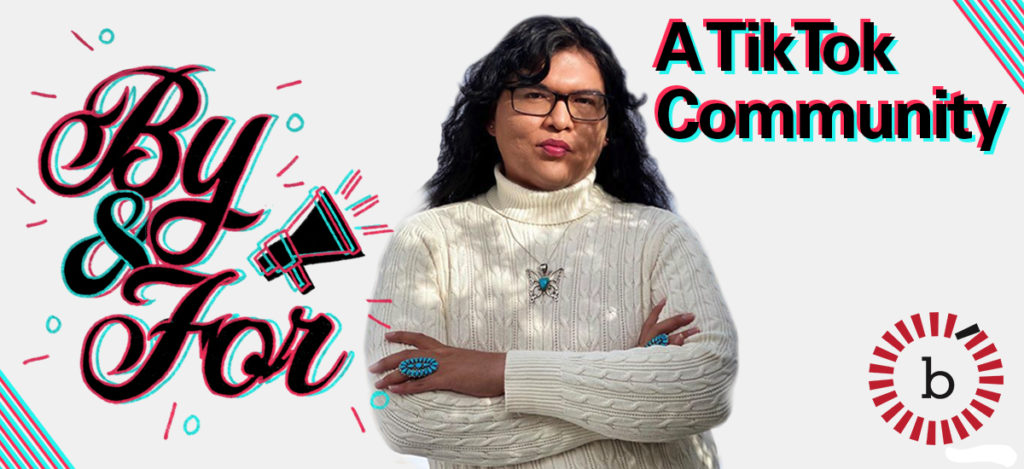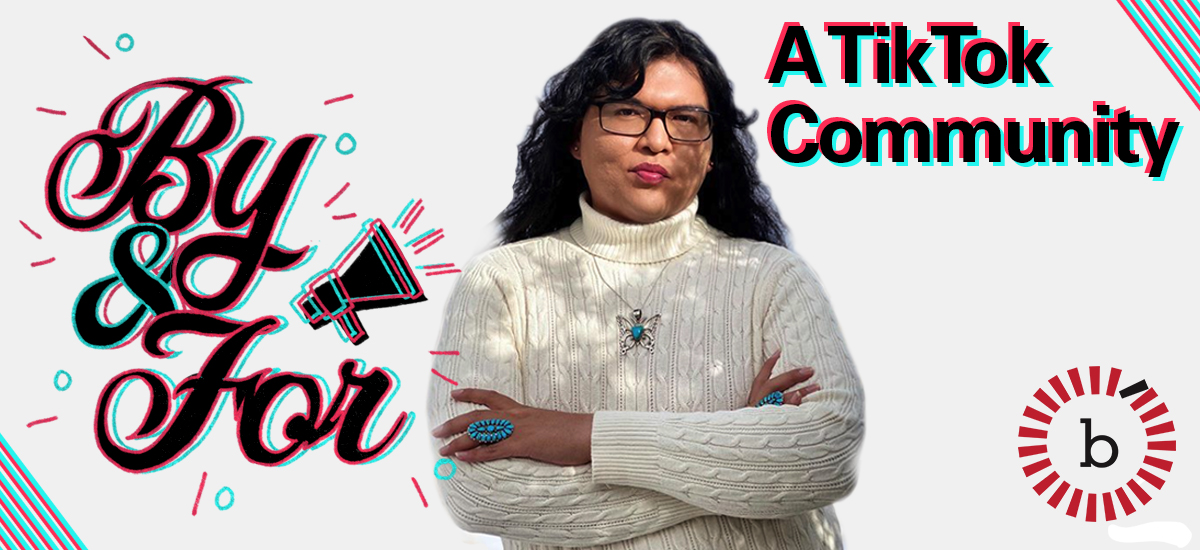 Welcome to BY & FOR: A TIKTOK COMMUNITY!
Breakthrough is a non-profit organization that harnesses the power of media, arts and tech to spark radical culture change. We believe that those facing systemic barriers have the most effective ideas for a liberated future. The best pathways to a future where everyone is treated with dignity and respect are created by them and for them.
Through By & For: Our Communities, a collection of essays, podcasts and videos produced with partner content creators, we hope to further amplify the lived experiences and liberation dreams of girls and gender non-conforming youth of color in authentic, nuanced and respectful ways, and provide them with platforms to tell their own stories, on their own terms.
This month, we are partnering with Diné scholar, writer, and advocate Charlie Amáyá Scott on By & For: A TikTok Community, a TikTok series exploring timely issues affecting Black, Indigenous and People of Color in fun, informative short videos. Every two weeks, Charlie will publish a new episode on their TikTok, and we will curate the series here, inviting you to continue the conversation within your communities.
Check out their first TikTok on Sexual Assault Awareness Month and read their inspiration behind it below!
"As most people know, the month of April is Sexual Assault Awareness Month (or #SAAM), which became nationally observed in 2001 in, what is now known as, the United States. This video was motivated by this month's theme and focus on supporting survivors of sexual violence. I wanted to highlight a community most affected by sexual violence, Native Americans (or Indigenous Peoples). RAINN.org shares that Native Americans are twice as likely to experience sexual violence compared to other racial/ethnic communities. As someone who is Native and a survivor, these statistics are alarming and frightening given the other systematic issues we face and the silence we hear and experience. Oftentimes, such statistics are not as well-known or shared during this month, and this video was an attempt to challenge that.
If you or someone you know has survived sexual violence, please call the National Sexual Assault Hotline at 800-656-HOPE (4673) and you will be connected with a trained staff member from a sexual assault service provider in your area or close to your area."
Our goal is to provide creators like Charlie with all of the relevant tools in our arsenal to build a liberated future. We do this with the understanding that young creators will become culture leaders who use these platforms to create space for all people to live with dignity, equality, and respect.
Join us by following us on TikTok (Breakthrough / Charlie), Facebook (Breakthrough / Charlie), Instagram (Breakthrough / Charlie) and Twitter (Breakthrough / Charlie), and by subscribing to our newsletters (Breakthrough / Charlie).