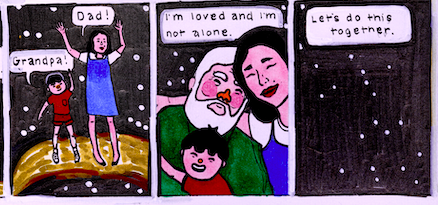 Artist's Comic Honors Suicide Prevention Awareness Month
TRIGGER WARNING: This article and comic mentions thoughts of suicide and depression
Anna Nguyen (she/her) is a young Chinese/Vietnamese American artist, member of Breakthrough's program, By & For, and monthly contributor to Mixed Mag. She uses art as an outlet to speak about the intersection of social justice and mental health and transforming her personal journey into inspiration for others.
In her previous work, Anna has created art to openly discuss her journey with mental health, including her journey with depression.
In honor of Suicide Prevention Awareness Month, Anna has created a comic that explores the thoughts of a man contemplating what suicide would mean and how he comes back to himself through the love of his family who want to support him.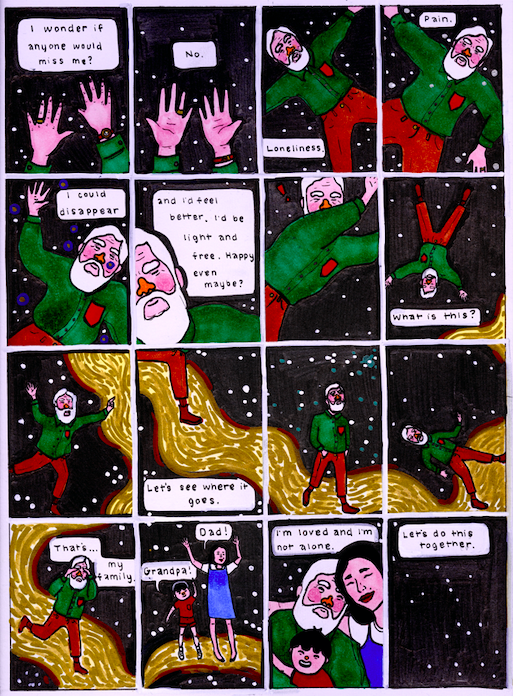 Mental Health Resources (via NAMINH)
Crisis Text Line – free, 24/7 support for those in crisis. Text 741741 from anywhere in the US to text with a trained Crisis Counselor.
Disaster Distress Helpline – call 1-800-985-5990 for a 24/7 national hotline dedicated to providing immediate crisis counseling for people who are experiencing emotional distress related to any natural or human-caused disaster.
The Trevor Project – a national 24-hour, toll free confidential suicide hotline for LGBTQ youth. If you are a young person in crisis, feeling suicidal, or in need of a safe and judgment-free place to talk, call 1-866-488-7386 to connect with a trained counselor.
The Asian Mental Health Project
Aims to educate and empower Asian communities seeking mental healthcare.
Black Emotional and Mental Health Collective (BEAM)
Group aimed at removing the barriers that Black people experience getting access to or staying connected with emotional health care and healing. They do this through education, training, advocacy and the creative arts.
Circles of Care
A SAMHSA Center for Mental Health Services, Tribal Training and Technical Assistance Center program that creates models of care for American Indian and Alaska Native youth.
Indian Country Child Trauma Center
Develops trauma-related treatment protocols, outreach materials, and service delivery guidelines specifically designed for American Indian and Alaska Native children and their families.
Liberate Meditation
An app created by BIPOC folks for BIPOC community.
The Loveland Foundation
Prioritizes opportunity, action, validation, and healing for communities of color with a particular focus on Black girls and women. Includes a therapy fund to provide assistance to Black women and girls seeking therapy nationally.
Melanin and Mental Health
Connects individuals with culturally competent clinicians committed to serving the mental health needs of Black & Latinx/Hispanic communities. Promotes the growth and healing of diverse communities through its website, online directory and events.
The Steve Fund
Organization focused on supporting the mental health and emotional well-being of young people of color.
---
This piece is part of Breakthrough's program By & For; An initiative to amplify the lived experiences of creative girls and gender non-conforming youth of color in authentic, nuanced, and respectful ways, and provide them with platforms to share their own creative work, on their own terms. Support By & For here.